Misty


Gender:
Female
Species:
Pixie
Age:
Unknown
Hair color:

     

Pale brown/tan
Eye color:

     

None
Family
Parents:
Anti-Cosmo (Adopted)

Anti-Wanda (Adopted)

Siblings:
Foop (Adopted)

Anti-Rosemary (Adopted)

Anti-William (Adopted)
"W-why?"
  --Misty
Misty was drown as an infant by her father, who also shot her mother. She began roaming around after dying, looking for some sort of condolence from somebody. She found Anti-Cosmo, who seemed to be the only one who could see her.
She was later materialized by Bill and Anti-Rip. She went on living with Anti-Cosmo and Anti-Wanda.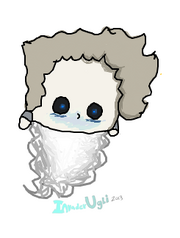 Foop and Misty had a bizzare relationship. He quickly became protective of her, until he realized that her materialization wouldn't last very long--a few months, to be exact. He found a book of resurrection and unknowingly sacrificed Anti-Rosemary's life to keep Misty alive.
She was later renamed 'Misty' after being adopted by Anti-Cosmo, as she could not remember her original name.
Ad blocker interference detected!
Wikia is a free-to-use site that makes money from advertising. We have a modified experience for viewers using ad blockers

Wikia is not accessible if you've made further modifications. Remove the custom ad blocker rule(s) and the page will load as expected.