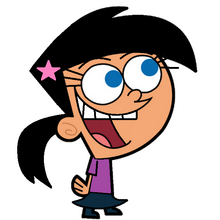 Pinky Dinky Doo is a minor Character on Fairly Oddparents.
Apperances
Edit
Where are my Shoes?
Pinky and the outer space fluffy buns
Tylers great big solo
Polka Dot Pox
Tyler Dinky Doo's big boo
Pinky and the new teacher
Pinky and the grumpy alligator
Pinky Dinky doo and the missing alligators
The Horn and antler club
Pinky dinky doo and the pizza artist
pinky dinky doo and the party animals
Tyler Dinyk Doo to the rescue
Shrinky pinky
Ad blocker interference detected!
Wikia is a free-to-use site that makes money from advertising. We have a modified experience for viewers using ad blockers

Wikia is not accessible if you've made further modifications. Remove the custom ad blocker rule(s) and the page will load as expected.