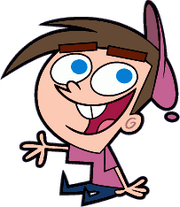 "Uuhh...Internet?
"What could possibly go wrong?""
— Timmy, Various episodes
— Timmy, Right before a disaster happens
Note: This article MAY contain content that is from other users' point of view for this character! See more Information here.
Timothy "Timmy" Tiberious Turner is the son of Mr. and Mrs. Turner. He has Cosmo, Wanda, and Poof as his Fairy GodParents. He is the main character in the animated T.V. series "The Fairly Oddparents!".
Common Traits
Edit
Saying "What could possibly go wrong?" right before a disaster
Claiming he got the stuff he wished for from the "internet"
Doing selfish wishes sometimes
Sacrificing his life for someone
Getting babysat and tortured by Vicky and being called "twerp" by her, and reacting badly to knowing this.
Keeping Vicky as his babysitter after he tries to get rid of her
Wishes that "everything was back to normal"
Getting "F"s from Mr. Crocker
Getting bullied by Francis
Ad blocker interference detected!
Wikia is a free-to-use site that makes money from advertising. We have a modified experience for viewers using ad blockers

Wikia is not accessible if you've made further modifications. Remove the custom ad blocker rule(s) and the page will load as expected.